The CSS/CSCN Trainee Task Force is pleased to report a successful first Move For Sleep Challenge 2021 event, as part of our initiative for World Sleep Day!
Thank you all for your participation and generosity to help make this event a success! A total of 248 participants and 21 teams were able to raise $16,924.37. These funds will be extremely useful to finance trainee's projects which will raise sleep health awareness in our society and to provide tools to CSS/CSCN trainees to better develop sleep science.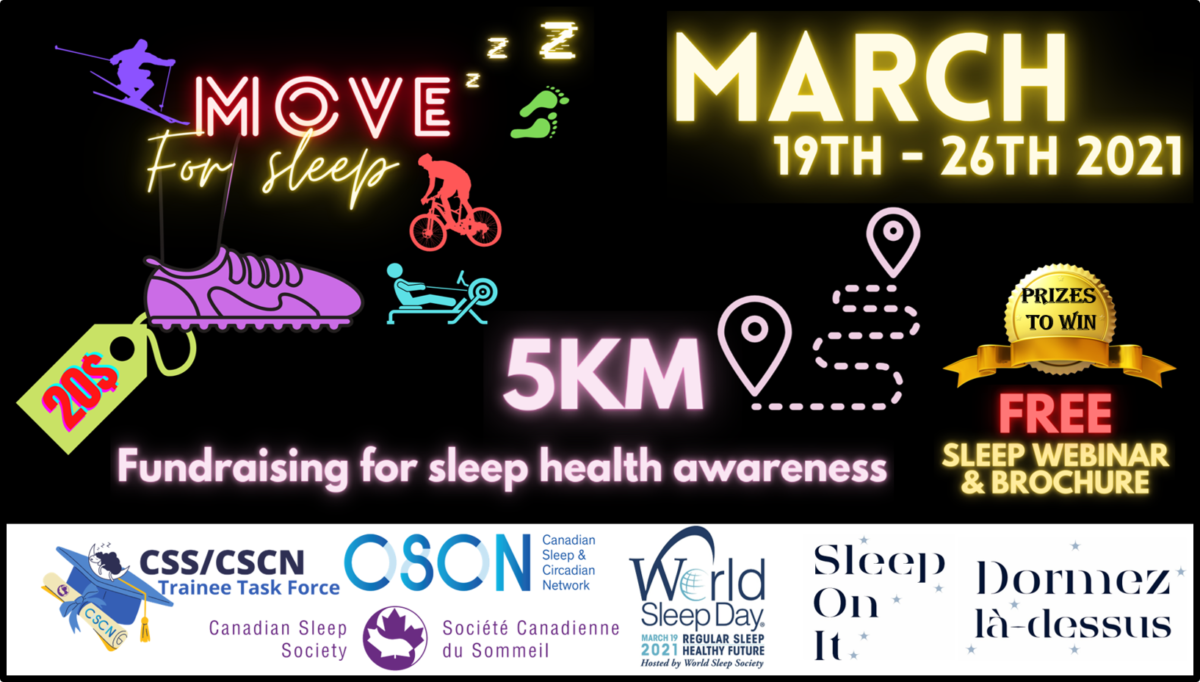 Congratulations to the 3 teams with the largest number of participants:
CÉAMS-Montreal (35)
Quest to TranquilSleep (34)
Eisai Dream Team (26)
A huge thank you to the three teams which raised the most amount of funds:
CÉAMS-Montreal ($2 273.69)
Eisai Dream Team ($2 103.92)
Blakes ($1 500.00)
Participation Prize and Canadian Sleep Society Pre-conference teaser
The participation prize draw will be on April 24th 2021, at the end of the upcoming FREE CSS virtual pre-conference teaser. Register here!
Webinar: Insomnia, Don't Sleep On It!
Tips from Dr Thanh Dang-Vu
Our Webinar was a huge success! Thank you to Dr. Dang-Vu for his expertise and tips. Thank you also to all the attendees, who with their questions helped to make this event a success.
If you missed it on March 26th 2021, you can still watch it here.