The Great Canadian Sleepwalk is an awareness and fundraising campaign to help Canadians wake up to the importance of healthy sleep.
Funds helps the Canadian Sleep Society to grow important national programs dedicated to education and public awareness on sleep research and sleep disorders medicine (e.g., see our patient information brochures). For our first event in 2016, over 100 people walked in Halifax, Quebec City, Montreal, and Niagara and raised nearly $6000. The second walk took place in Calgary, Alberta, just before our national biennial conference in April 2017. There is a nominal base registration fee for individuals to sign up. Donations from walkers and sponsors are always welcome.
Interested in getting involved with The Great Canadian Sleepwalk?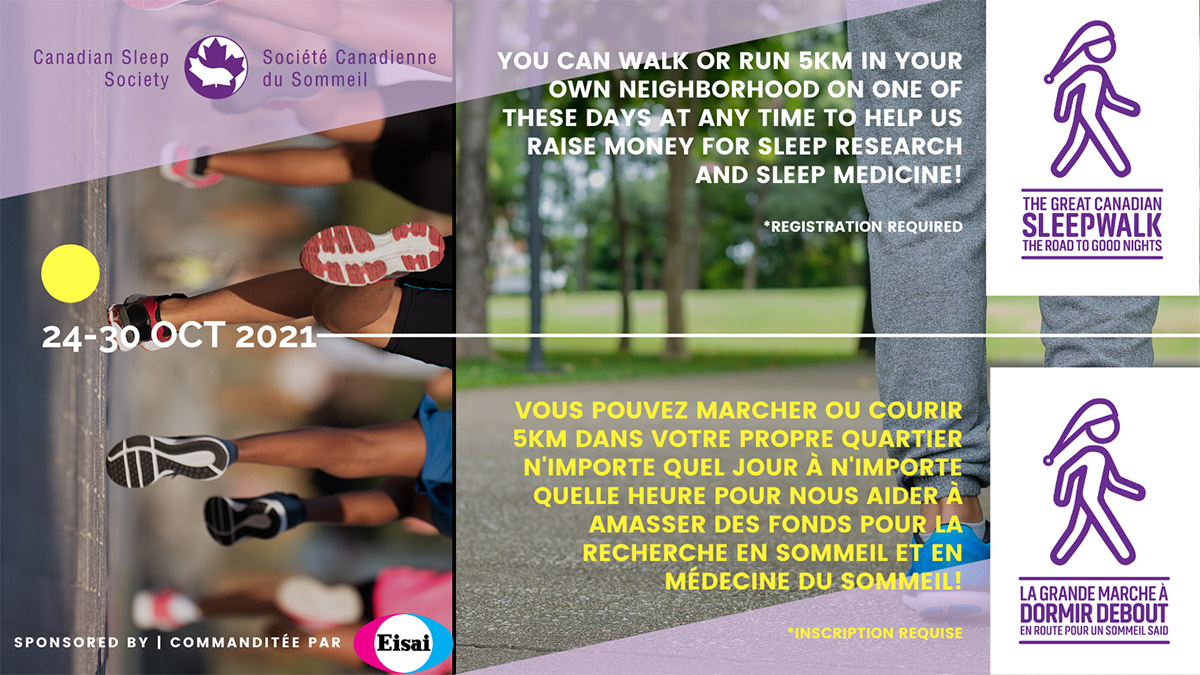 Upcoming Sleepwalks
Join a team of 'sleepwalkers' in a 5km walk to raise awareness about healthy sleep and raise funds for the Canadian Sleep Society or attend to cheer on the participants.
The 2021 Great Canadian Sleepwalk will be virtual and held from October 24th to October 30th, 2021.
Cost and profits
There is a nominal per person fee to sign up to participate in the Sleepwalk. Individuals and teams are asked to raise funds by seeking donations or encouraging others participants to join the walk. All funds goes to CSS, a registered non-profit charity organization. Tax receipts are issued.
The local organizers are responsible for all costs, including permit fees if applicable, any food & beverage, or event swag (e.g., t-shirts) the local group wishes to organize. Note: an event can be run for minimal costs with volunteers and sponsors.
Role of the Canadian Sleep Society (CSS)
Allow use of our branded fundraising website to organize your local event (sign up participants, raise funds). See previous events on our Past Sleepwalks page.
Issue charitable donation receipts.
Provide sample posters, emails and media announcements to promote your event.
Provide tips and advice on running a successful event.
Provide copyrighted logos for printing signage and swag (if desired).
Role of the Local Organizer(s)
One person must be the main contact, organizer, and race director.
A route must be approved by the municipality or park authority, and proof of permit sent to CSS prior to setting up website (recommend this be done 3-6 months ahead).
The route needs to be a park or route without streets in order to avoid the need for security or independent liability insurance (e.g., university campus, public hiking trails or parks).
Information about the route and event must be sent to CSS for the initial setup of the website (e.g., maps and description of time, place).
Volunteers need to be organized on the day of the event to greet participants at the start point, and marshal the walking route.
Promote your event locally by sending emails, putting up posters, and talking to media.
It is up to the individual sites to organize additional details as per preference (e.g., prizes for a raffle, water bottles, venders, music, food, t-shirts – most of which is obtained by soliciting donations and sponsors by the local group).
Application Process
If you have questions prior to completing the application form, please email info@css-scs.ca. Once you're all set and ready to host a Sleepwalk of your very own, use the link below to download our application form, and send the completed form to info@css-scs.ca. Upon receipt of your application, a member of our team will be in touch with further details and next steps.